Home >>Shipping by Region >>Europe >> United Kingdom
Freight Shipping From China to UK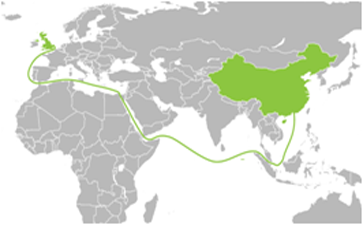 Supertrans Logistics provides professional freight shipping from China to the UK. We offer delivery from China to the UK via our simple and hassle-free process. While traditional importing is complicated and loaded with red tape, we simplify the process for you. We take extra care to select the best freight from China to the UK to ensure a safe and simple freight forwarding experience for you.
Our team handles shipping via sea and air from all of China's major ports including Shanghai, Shenzhen, Guangzhou, and Ningbo. Our connecting UK city ports include Belfast, Cardiff, Bristol, Liverpool, London, and Manchester.
Using our services for shipping from China to the UK is simple. Our expert team contacts your supplier to book space for your shipment via a vessel or flight. We then manage every step of the process from collection to clearing your goods through Chinese customs. With our freight from China to the UK you can rest easy knowing it's in good hands. Never worry about local customs, paperwork or any other issue. We handle it all for you.
No matter what type of delivery from China to the UK you need, we isolate the best shipping solutions all at competitive sea and air freight rates, and always provide premium customer service. Whether it's your first time using a freight service or your hundredth, we would love to become your go-to company for shipping from China to the UK.
Please contact our team today to discuss the details of your shipment and any requirements you may have.
What We Can Do
For You?
Aircargo Door to Door
Supertrans Logistics provides air cargo door to door service from China to UK by offering efficient and customizable air freight shipping solution at competitive rates with DDU/DDP
Air Freight Shipping
Working with the main airlines like CA, CX, EK, CZ, HU, MU to handle air shipping from any point in China to the main airports in UK.
Express Delivery
With options to fit any budget or timeline - including expedited, standard and economy, our express service meets your needs regardless of whether the shipment is planned or unplanned..
FCL (Full Container)
We provide fast and easy customs clearance for almost any exported goods from China. We take charge of your shipments, handle all related customs documents, and clear them in one seamless transaction.
LCL Shipping
By combining smaller shipments from multiple suppliers in China into a single, more economical and larger shipping load for importers from UK, we can provide cost-effective, comprehensive solutions for all.
Sea Freight
With low prices and large volume capacity for the FCL or LCL option, it is no surprise that delivery by sea is the first choice for most UK importers.