Home >>Shipping by Region >>Middle East >> Qatar
Shipping services from China to Doha,Qatar
Freight forwarding services from China to Qatar | Freight/Shipping cost/rates to Qatar | Aircargo from China to Doha,Qatar | Shipping containers from China to Qatar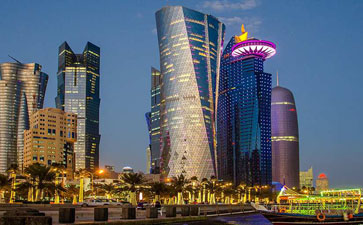 Shipping from China to Qatar, Supertrans Logistics is an international freight forwarding agent that offers you full ranges of freight services to satisfy your requirements on time and on budget. Moreover, shipping services with nationwide coverage through the Qatar such as Doha, is available via all major ports and airports.
Sea freight services not only include standard FCL (full container load), LCL (less than container load), but also include out of Gauge, Roll-on Roll-off as well as Break Bulk. Air freight comprises a program of scheduled and deferred services to and from China with the backing of ground services and flights with consistent transit times.
Furthermore, Supertrans Logistics offers special services for automobile, refrigerated items and dangerous goods. No project is too large or small to us. All in all, we manage your shipments from coordinating pick-up and delivery to any shipping documentation and provide ongoing service support.
We have been managing shipments of all kinds from China to Qatar for years' of experience. No shipment is too large or small for us! Except for general delivery, a full door to door service is also available - from time of order placement to final delivery, we are in complete control of your freight.
What We Can Do
For You?
Aircargo Door to Door
Supertrans Logistics provides air cargo door to door service from China to Qatar by offering efficient and customizable air freight shipping solution at competitive rates including customs duty (DDP)
Air Freight
With options to fit any budget or timeline - including expedited, standard and economy, our air freight service meets your needs regardless of whether the shipment is planned or unplanned.

Customs Clearance
We provide fast and easy customs clearance for almost any exported goods from China. We take charge of your shipments, handle all related customs documents, and clear them in one seamless transaction.
Warehousing and Consolidation
By combining smaller shipments from multiple suppliers in China into a single, more economical and larger shipping load for importers from Qatar, we can provide cost-effective, comprehensive solutions for all.
Sea Freight Shipping
With low prices and large volume capacity for the FCL or LCL option, it is no surprise that delivery by sea is the first choice for most Qatar importers.
Road Freight
Supertans Logistics offers secure road and transport services throughout China, whatever your import requirements from China, we provide expert logistics guidance for all aspects of the process.